Ok….
I didn't watch this….
I'm NOT Sorry….
I didn't see the beginning of this…
But what I saw was NOT A MATCH to even the first day of the Biden convention , which was not as smooth as the last day….
It IS the Trump show…
Looked and sounded like it….
All over the place….
Another Universe Reality….
Turning things we KNOW into things we KNOW are NOT …
It was Trumpian politics as television. And it was dismal.
….
Kimberly Guilfoyle, a former Fox News host and top surrogate of President Trump, delivered a grim, forceful speech at the Republican National Convention on Monday, accusing Democrats of working to "destroy this country" and "enslave" Americans with a "liberal victim ideology."
The speech, delivered in a near-constant shout, painted a dark picture of the United States if former Vice President Joe Biden and his running mate Sen. Kamala Harris (D-Calif.) were to win the White House in November. 
"They want to destroy this country and everything we have fought for and hold dear," Guilfoyle, who is dating Trump's eldest son Donald Jr., said. "They want to steal your liberty, your freedom, they want to control what you see and think and believe so that they can control how you live."
"They want to enslave you to the weak, dependent, liberal victim ideology to the point where you will not recognize this country or yourself."….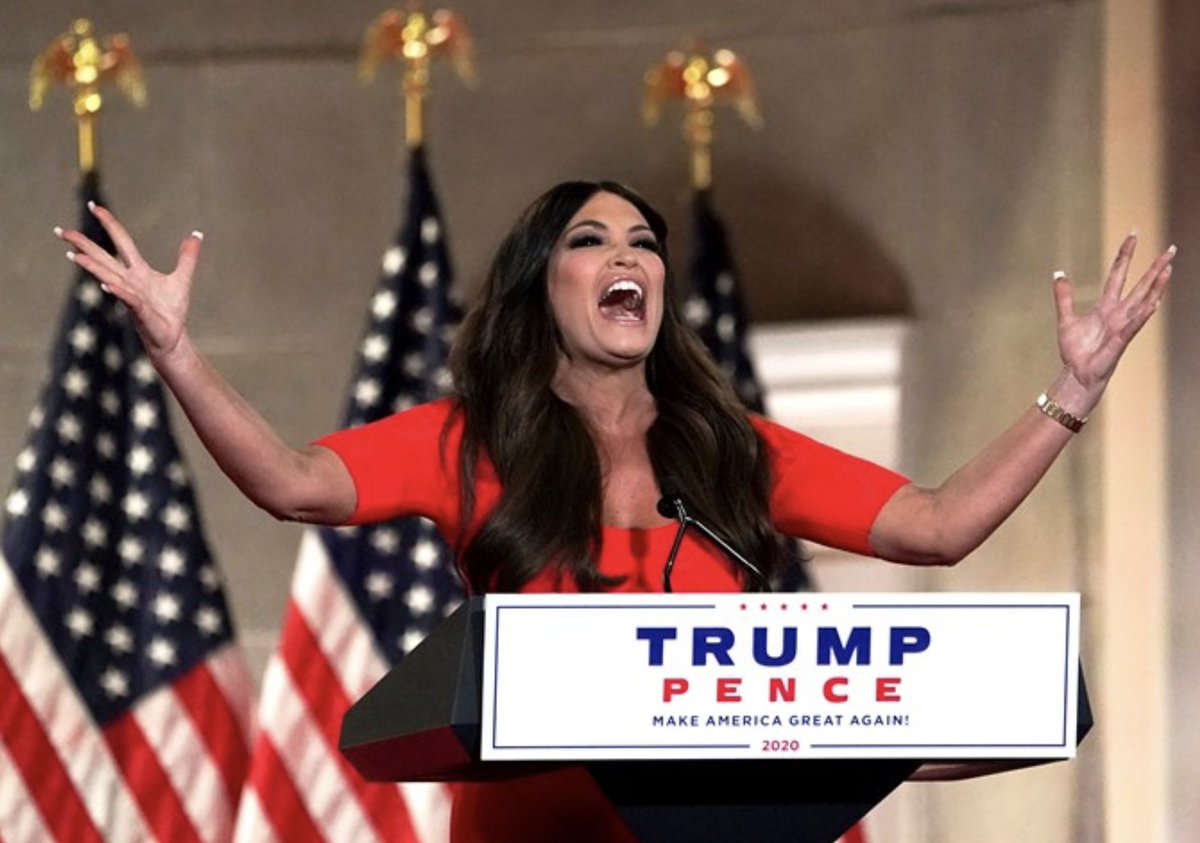 KIM GUILFOYLE IS SHOUTING
…
Conservative activist Charlie Kirk gave the first address of the Republican National Convention on Monday, touting President Trump as "the bodyguard of Western civilization."
"Speaking to you in my personal capacity tonight as a 26-year-old, I see the angst of young people as well as the challenges facing new parents," said Kirk, the founder of the pro-Trump student group Turning Point USA.
"I am here tonight to tell you, to warn you, that this election is a decision between preserving America as we know it and eliminating everything that we love," he continued….
…
Trump spoke with front-line workers who have helped the nation during the coronavirus pandemic on Monday night, including healthcare professionals, truck drivers and small business owners.
The president thanked each person for their contributions during the past several months fighting Covid-19. Two of the attendees said they had contracted the virus and recovered with the help of medical care like antibiotics and cough syrup.
"I won't even ask you about the hydroxychloroquine," Trump said, referencing a drug that multiple studies have shown is not effective against the virus. "It's a shame what they did to that one. I took it."….
…
"Democrats won't let you go to church, but let you protest. Democrats won't let you go to work, but let you riot. Democrats won't let you go to school, but they'll let you go loot," he said, contending that Trump "has fought against each of their crazy ideas."
[Jim] Jordan also sought to humanize the president, recalling that when the congressman's nephew was killed suddenly several years ago, Trump reached out to offer his condolences and "took time to talk to a dad who was hurting."
….
Andrew Pollack, whose daughter was killed in the Marjory Stoneman Douglas High School shooting in 2018, said policies implemented by Democrats in his Florida district are to blame for his child's death.
….
…
South Carolina Sen Tim Scott is talking and is dancing around and NOT mentioning Donald Trump in his speech so far….
He is taking about being a Republicans and NOT about Donald Trump….He's talking about making profits….Education and school choice…he continues to speak about old school Republican values , that Trump does NOT follow….
He tries to portray South Carolina voters are color blind now….
His first mention of Trump is on the Trump Jr line….
Great economy BEFORE the virus….
THAT was THEN….And came on the back of Obama's end of the term….
Scott wants people to look 'back' …..
Then attacks Joe Biden as REALLY helpful to blacks….
Trump cleaned up Biden's mess….
That same line trying to support the 2017 tax cut for the rich…
Biden failures after 47 years….
Joe Biden's radical policies….
Biden and Harris want to turn America into a radically different country. ….
His speech is full of shit ….
But his delivery is better than the others….
….
Note….
There is scant mention of the virus and the failure of Donald Trump to deal with it…DONALD TRUMP did NOTHING to deal with the Covid-19 virus…He took a drug he peddled as a cure and now knocks people for telling him to do so….
He has been ignoring it….
That he has left the country and Governor's to be on their own….
Speaker after speaker mentions the US economy FOUR years ago!…
That was NOT Donald Trump's economy….
That was Barack Obama's economy….
The support for the 2017 tax 'cut' that HAS enriched MORe rich and corporations that have NOT given back a stitch ….
Donald Trump Jr. speaking how his dad did trade contracts???
Democrats against religion?
How many mentions of GOD where made last week?
…
LMAO THEY'RE AIRING 2016 PROMISES THAT WEREN'T KEPT