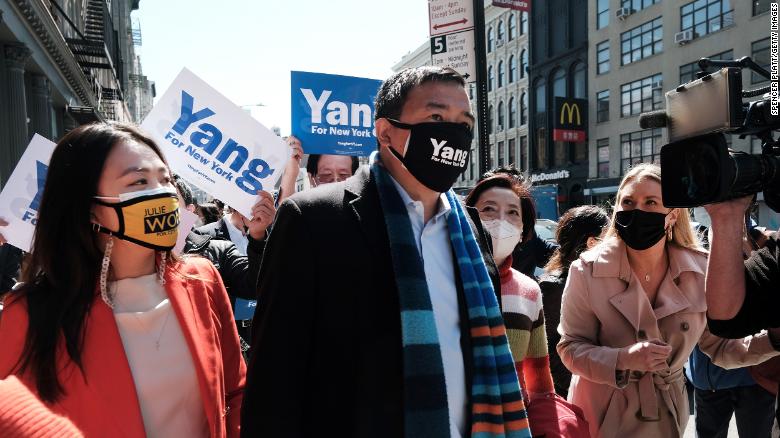 Andrew Yang IS leading the pack in the polling for New York City Mayor…
Bill deBlasio is termed out…
Fresh from running for President and having no chance…
Yang brings name recognition to the race….
The local guys running are well known in the City….
By Yang IS a national name…
There have been attempts to define him as not a 'home grown' guy…
That has not dented Yangs lead for the Democratic nomination….
The city will be doing ranked choice voting for the first time in this race…
Yang keeps his advantage there also….
Since the city is a strong Democratic strong hold….
A win by Yang in the June primary is tantamount to getting the job come next year…
The New York City Democratic mayoral primary is now less than two months away, on June 22. The polls indicate that businessman and former 2020 presidential candidate Andrew Yang continues to hold a clear lead in the first New York City mayoral election being held under ranked choice voting.
While Yang's lead is surmountable, a look back over history suggests that front-runners at this point usually go on to win the primary.
When voters were asked who their first choices are, Yang averaged 22% of the vote in my aggregate of recent polling. Behind him are Brooklyn Borough President Eric Adams at 14%, New York City Comptroller Scott Stringer at 9% and attorney and former MSNBC legal analyst Maya Wiley at 8%. The other four major candidates come in at 5% or less.
Of course, these standings do not take into account
ranked choice voting
. In this system, voters are asked to rank their candidate preferences from 1 to 5. Voters who choose the candidate with the fewest votes in a given round will have their ballots reallocated to their next highest preferences, until a candidate receives a majority of the vote.
Under this system, Yang still comes out on top by double digits in the polling.
While his lead may not end up holding, we shouldn't dismiss it….
image….CNNPolitics.com