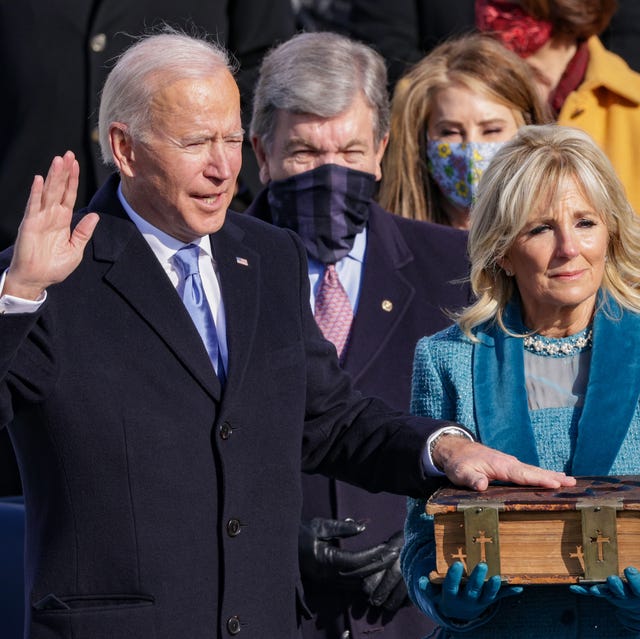 Amen…
The chaos seems to be over ….
We have a President that is about 'healing'…..
Not about making money for himself…
A leader that says he" listen to facts….
A President that is in OUR Reality….
A President and party that is and looks like 'We the People'….
A President that isn't gonna lie to us over and OVER….
Democracy 'works'….
This is a start….
We must NOT let something like Donald Trump happen again…
And we must be carful to keep an eye on those among us who will try to set us back again…..
So when the inauguration actually happened Wednesday, some Biden supporters said they found themselves overcome by emotion and a wave of relief. But for many, it was coupled with anxiety that the United States is too broken, too divided for one president to repair.
Alice Boyer, a 24-year-old Democratic organizer and legislative staffer in Montana whose Blackfeet name is Tsi'koi'yiiktaan, felt a rush of optimism. With Biden, she said, there would soon be a coordinated federal response to the coronavirus pandemic….
…
After voting for Obama in 2012, she sat out the 2016 election and then wrote in Kanye West for president in November because "he's a happy medium." She is relieved that Trump no longer has access to nuclear weapons, but she worries that the violence seen at the U.S. Capitol will only continue and worsen in the weeks ahead because Trump's supporters are numerous and unlikely to change their outlook.
"Their mind is pretty much made up," said Price, who lives in Houston and is studying to be a veterinarian. "They hate Biden just as much as they love Trump."….
…
A lifelong Democrat, Witherspoon often felt dismay and disbelief during the past four years.
"Never in my life did I imagine the things that we've witnessed take place in the Trump administration," she said. She said that as a Black woman, she's not naive about racism, "but I never thought I'd see white supremacy on full display. You hear people say this isn't America. Yes it is."
But she'd grown more hopeful since the day the election was called for Biden, when she telephoned her parents and screamed into the phone: "We did it!" She seized the opportunity on Wednesday to celebrate this moment she worried would never come.
"I feel blessed to be in this moment," she said, savoring it….
Note…
We STILL have millions of Americans who KNOW Joe Biden won the election but won't say he did….
Biden will try to reach out to them…
It's unknown  how successful he'll be…..
image…Alex Wong/Getty