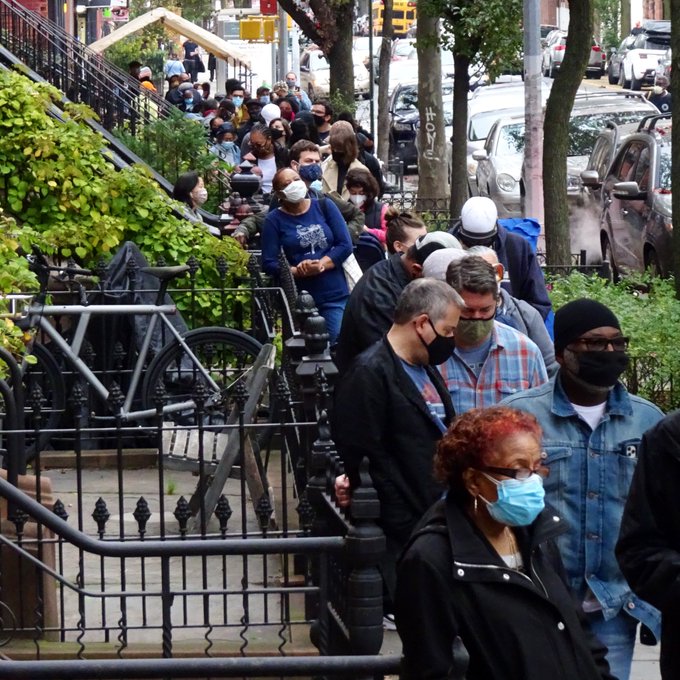 This dog can confirm that….
The place I was at had people waiting for upwards to FIVE hours to vote….
Tens of thousands of New Yorkers flooded polling places and waited hours in long lines on Saturday, the first day of early voting, with many saying that they turned out because of concerns that their ballots might not be counted if they tried to vote by mail.
Lines stretched for blocks outside polling sites, including Barclays Center in Brooklyn and the Armory in Washington Heights, as election officials contended with malfunctioning electronic poll machines and tried to calm anxious voters.
The hurdles for voters and poll workers on the first day of voting reflected the challenges of holding a contentious presidential election in the middle of a pandemic. But many people remained undeterred by the delays and the coronavirus, some waiting as long as five hours and some rushing to get in line before polls closed….
…
This is the first presidential election during which New Yorkers are allowed to cast ballots early. The State Legislature approved early voting in 2019, after Democrats took control, making New York one of the last states to adopt it.
Sarah Steiner, a New York election attorney who has represented candidates seeking public office, said on Saturday that it was not unusual to hear reports of long lines and other problems during the first day of early voting.
Throughout the day, photos on social media showed New Yorkers descending upon polling sites across the city and state. Those images were signs of a better-than-expected turnout, Ms. Steiner said.
image…ABC7 New York