A Emerson poll out this morning has first change in leadership for the 2020 Democratic Presidential nomination…
While Joe Biden continues to do the best head to head  in leading Donald Trump right now….
Bernie Sanders moves ahead of him in the nomination run in the poll….
One would think several things have helped Sanders gain the lead….
Joe Biden has had a rough few weeks with his 'hands' controversy….
Sanders has been in the media as he stumps across the MidWest….
Joe Biden has NOT been in public except for once….
Biden has STILL not declared his intention to run….
('Ya gotta be in it to win it', eh?)
Oh,  and Pete Buttigieg continues to be the flavour of the month displacing Beto O'Rourke in third place in this poll…..
The poll has Republican numbers also….
Trump leads just declared challenger Bill Weld 85 %to 15%….
A new national Emerson poll, including 20 Democratic candidates for President, found Senator Bernie Sanders ahead of the pack with 29%, followed by former Vice President Joe Biden at 24%. They were followed by Mayor Pete Buttigieg at 9%, former Rep. Beto O'Rourke and Senator Kamala Harris at 8%, and Senator Elizabeth Warren at 7%. Entrepreneur Andrew Yang and former HUD secretary Julian Castro were at 3%. The poll was conducted April 11-14 of Democratic Primary voters with a subset of n=356, +/- 5.2%.
Spencer Kimball, Director of Emerson Polling, said "while still early in the nominating process, it looks like Mayor Pete is the candidate capturing voters' imagination; the numbers had him at 0% in mid-February, 3% in March and now at 9% in April."
Kimball also noted that "Biden has seen his support drop. In February, he led Sanders 27% to 17%, and in March the two were tied at 26%. Now, Sanders has a 5 point lead, 29% to 24%."…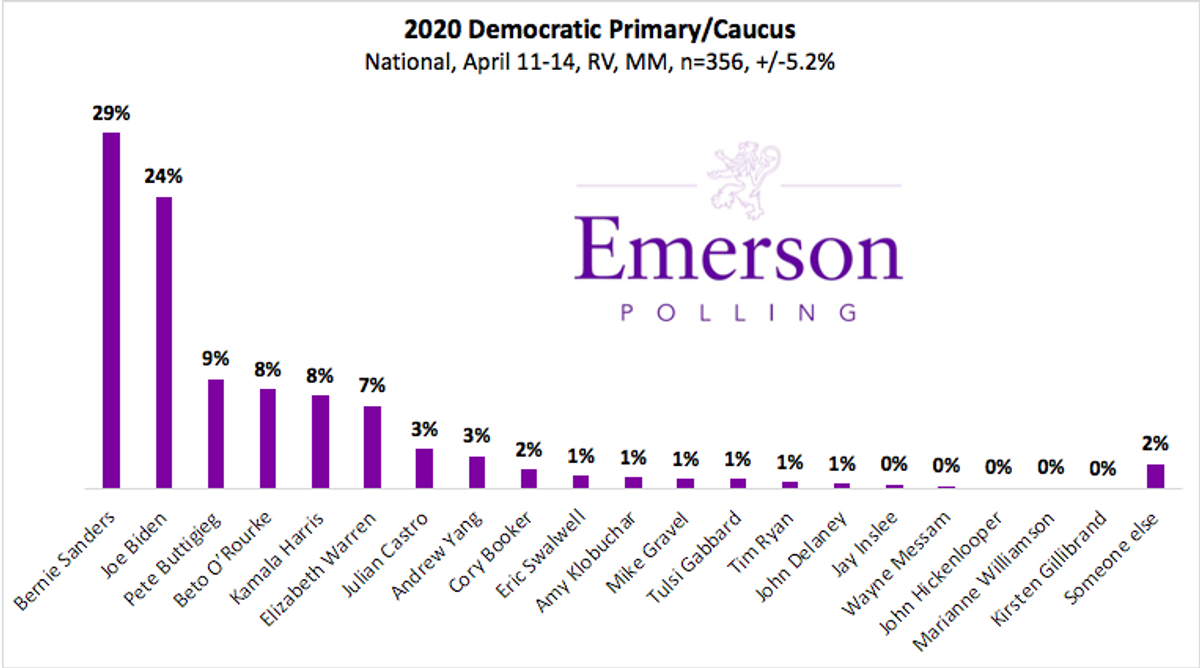 If Joe Biden decides not to run, Bernie Sanders looks to be the early beneficiary, picking up 31% of Bidens' voters. Mayor Pete Buttigieg gets 17% of the Biden vote, followed by Beto O'Rourke at 13%….