I'm gonna give 2 posts on the final polling before the election today….
They ALL say about the same thing….
Joe Biden wins at +320  Electoral Votes
I will be a final Real Clear Politics based Update post tonight….
Sabato's Crystal Ball predicts that former Vice President Joe Biden will win a commanding victory in the Electoral College on Tuesday, picking up the battleground states of Arizona, Pennsylvania, Georgia and North Carolina, among others.
The nonpartisan election analyst blog published by the University of Virginia Center for Politics released its final projection for the 2020 election on Monday, indicating the Democratic nominee will win a number of states captured by President Trump in 2016.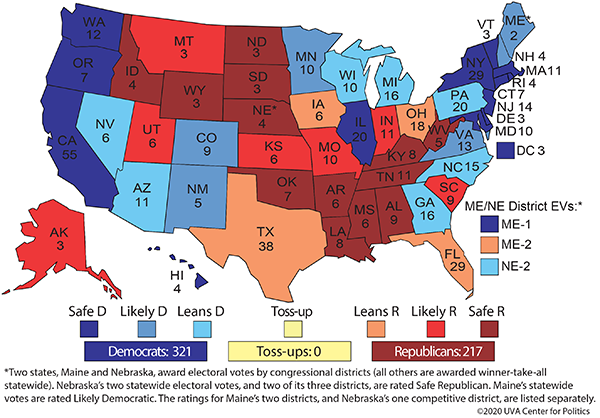 Morning Consult graphic — final results for: "If the November 2020 presidential election were being held today, for whom would you vote?"
FLORIDA: Biden 45%, Trump 43%
GEORGIA: Biden 52%, Trump 48%
PENNSYLVANIA: Biden 51%, Trump 49%
IOWA: Biden 49%, Trump 48%
MICHIGAN: Biden 50%, Trump 43%
MINNESOTA: Biden 52%, Trump 43%
OHIO: Biden 47%, Trump 47%
PENNSYLVANIA: Biden 50%, Trump 44%
WISCONSIN: Biden 50%, Trump 42%
FLORIDA: Biden 51%, Trump 49%
NORTH CAROLINA: Biden 51%, Trump 49%
PENNSYLVANIA: Biden 52%, Trump 48%