The states that gave Donald Trump his surprise win 4 years ago are in Joe Biden's column…
Pennsylvania, Wisconsin,  Michigan and Minnesota….
Four years ago Hillary Clinton was 5.2% pts ahead of Trump down from only a high of 7.0% on October 17….
Joe Biden is down from 10.3% October 11 to 7.8% pts ahead yesterday …..
In the last year?
Donald Trump has NEVER come closer than 4.8% pts BEHIND Biden ….
Against Hillary Clinton?
Trump actually topped Clinton TWICE in the polling numbers ….
Race/Topic   

(Click to Sort)

Poll
Results
Spread
Georgia: Trump vs. Biden
Atlanta Journal-Constitution*
Trump 46, Biden 47

Biden +1

Pennsylvania: Trump vs. Biden
InsiderAdvantage*
Biden 46, Trump 48

Trump +2

Pennsylvania: Trump vs. Biden
Reuters/Ipsos
Biden 50, Trump 45

Biden +5

Pennsylvania: Trump vs. Biden
U. of Wisconsin/YouGov
Biden 52, Trump 44

Biden +8

Texas: Trump vs. Biden
NY Times/Siena*
Trump 47, Biden 43

Trump +4

Texas: Trump vs. Biden
University of Houston
Trump 50, Biden 45

Trump +5

Wisconsin: Trump vs. Biden
Reuters/Ipsos
Biden 53, Trump 44

Biden +9

Wisconsin: Trump vs. Biden
U. of Wisconsin/YouGov
Biden 53, Trump 44

Biden +9

Michigan: Trump vs. Biden
U. of Wisconsin/YouGov
Biden 52, Trump 42

Biden +10

Maryland: Trump vs. Biden
Gonzales Research
Biden 58, Trump 33

Biden +25

General Election: Trump vs. Biden
Rasmussen Reports
Biden 47, Trump 48

Trump +1

General Election: Trump vs. Biden vs. Jorgensen vs. Hawkins
IBD/TIPP
Biden 52, Trump 45, Jorgensen 1, Hawkins 1

Biden +7

General Election: Trump vs. Biden
JTN/RMG Research*
Biden 51, Trump 44

Biden +7

General Election: Trump vs. Biden vs. Jorgensen vs. Hawkins
JTN/RMG Research
Biden 51, Trump 44, Jorgensen 1, Hawkins 0

Biden +7

Georgia Senate – Perdue vs. Ossoff
Atlanta Journal-Constitution
Perdue 45, Ossoff 46

Ossoff +1

Georgia Senate Special Election – Open Primary
Atlanta Journal-Constitution
Warnock 34, Collins 21, Loeffler 20, Lieberman 4, Tarver 1, Slowinski 3

Warnock +13

Texas Senate – Cornyn vs. Hegar
NY Times/Siena*
Cornyn 48, Hegar 38

Cornyn +10

Texas Senate – Cornyn vs. Hegar
University of Houston
Cornyn 49, Hegar 42

Cornyn +7

New York 11th District – Malliotakis vs. Rose
NBC 4/Marist
Malliotakis 48, Rose 46

Malliotakis +2

President Trump Job Approval
Rasmussen Reports
Approve 52, Disapprove 46

Approve +6
@NateSilver538
If the polls aren't tightening since the debate—and with 62 million people having voted—we're sort of getting to the point where the only way Trump can win is with a major polling error, bigger than in 2016 (or if the election is stolen somehow)…
Our current trifecta chances: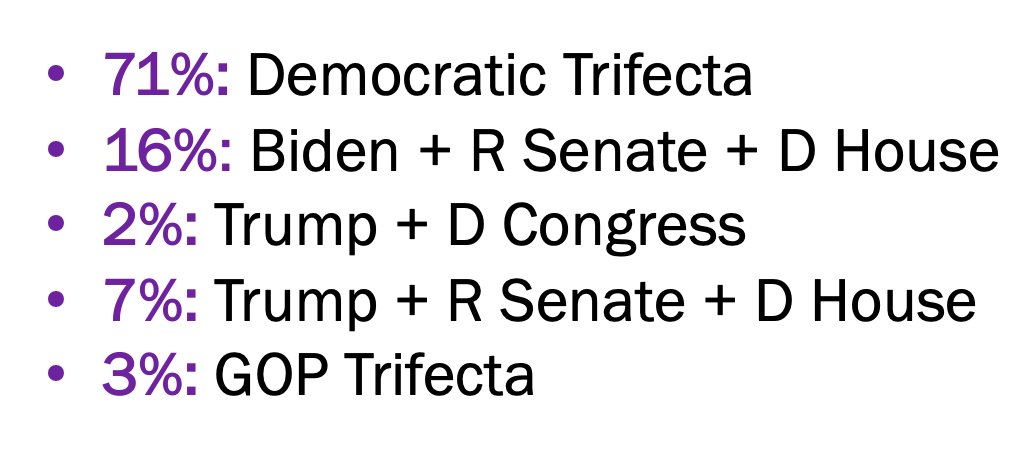 Chance of winning the electoral college:
Chance of winning the most votes:
Estimated electoral college votes: