She put this out on a LONG twitter thread…..
She points in part to Hillary Clinton NOT making the Supreme Court a campaign issue that has come back with a vengeance right now…And how Clinton failed to focus strongly enough on Donald  Trump…. 
Rachel "The Doc" Bitecofer 
@RachelBitecofer
1. As promised- here is the quantitative reality of 2018 & the effect of the Kavanaugh confirmation. As you can see- it impacted partisans on both sides, but D's were more likely than Rs to say it motivated them to vote. I limited analysis only to battleground states. This is bc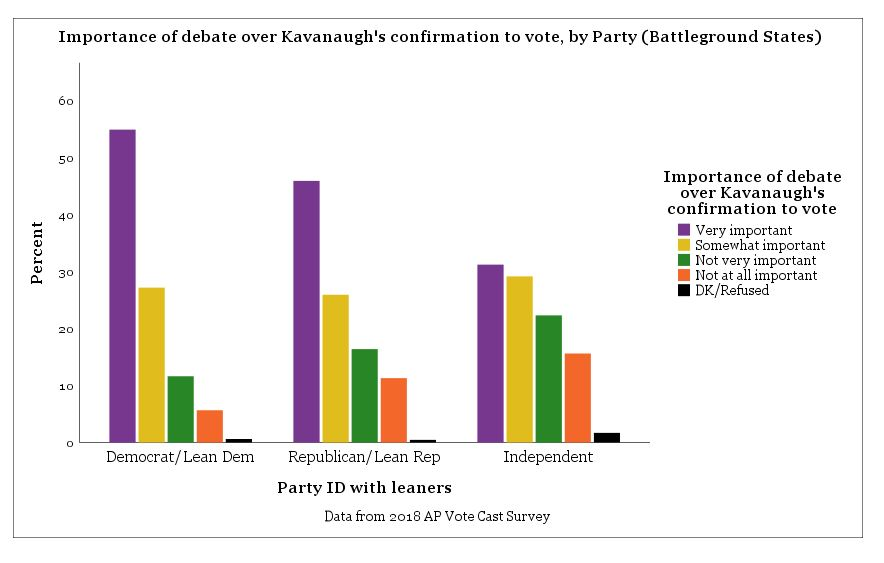 Rachel "The Doc" Bitecofer
Replying to
@RachelBitecofer
2. losers, not winners, get motivated by things. Had Kavanaugh's confirmation gotten tanked- THAT would have been a diff story. But he was confirmed. Ds lost. As is the story now w the RBG death. Ds have LOST. They are already marching in DC. They are terrified. This is going to
Rachel "The Doc" Bitecofer
3. add to their already considerable negative partisanship motivators (fear) and once McConnell breaks the McConnell rule & confirms his new fed society right-wing justice (hate). There is a small, small chance that won't happen before the election ONLY bc of endangered senate
Rachel "The Doc" Bitecofer
@RachelBitecofer
4. incumbents. It will come down to whether McConnell has already written Tillis, Gardner, Collins, and McSally off and sees no added value to putting the fight off to post-election. He doesn't give two shits about optics. He has no problem putting Ted Cruz on the bench even
Rachel "The Doc" Bitecofer
@RachelBitecofer
5. after Trump loses. BUT the other strategic consideration that is factoring into this BIG TIME is the potential need for them to work the Court for an election decision- circa 2000. To me, this makes it more likely to move forward quickly and w a much more brazenly nutty pick.
Rachel "The Doc" Bitecofer
@RachelBitecofer
·
6. he's going to be pressured by his endangered colleagues to wait- he's going to be pressured by Trump to get someone in place that will manipulate the law in his favor if needed. Mitch doesn't give two shits about the institution. He does very much care about preserving the old
Rachel "The Doc" Bitecofer
@RachelBitecofer
·
7. power paradigm- there is no single person who has done more to reinforce its beams. But filled or vacant- the conservatives already have a Court majority so this issue is less salient to them (as you can see my the inverse of Court salience in polls between Rs and Ds since
Rachel "The Doc" Bitecofer
@RachelBitecofer
8. 2016. With Clinton's loss in 2016 the liberals lost a chance to have their first Court majority in more than 30 years. With it, they would have actually been able to affect gun policy, money in politics, gerrymandering- all the issues most dear to the bases heart. At the end
Rachel "The Doc" Bitecofer
@RachelBitecofer
9. of the day, the Court decide policy success on all of these issues bc they decide the meaning of the law. The Right figured this out 60 years ago when the Court started to produce meanings of the law that they hated and thus undertook a decades long project to train and elect/
Rachel "The Doc" Bitecofer
@RachelBitecofer
10. appoint different types of justices that would look at law differently. We are now looking at the apex of this long-term strategic plan & the big tree they have planted and McConnell w the Trump presidency has so adeptly tended is going to yield white conservatives fruit for
Rachel "The Doc" Bitecofer
@RachelBitecofer
11. a long, long time. A that "fruit" is going to have tangible, serious consequences for people of color, women, for children, really for the entire income strata below 80%, for immigrants. It is easy to blame individual voters for not showing up in '16 for HRC or casting 3rd
Rachel "The Doc" Bitecofer
@RachelBitecofer
12. party ballots, as even I do when I give into anger and angst. But the fact is, the Dem Party and HRC campaign did not make Court control a MAJOR theme of the 2016 campaign. They did not tell voters that her W would lock in the 1st liberal majority in decades & what that would
Rachel "The Doc" Bitecofer
@RachelBitecofer
13. mean in terms of ACTUALLY ACHIEVING the topics of the Sanders Revolution. Put simply: it was the best position they would ever have to do so. This was not an accident- this message was kept low profile & not emphasized under the erroneous assumption it would cause a surge in
Rachel "The Doc" Bitecofer
@RachelBitecofer
14. Rep Party turnout and hurt Clinton. This is a widely accepted "wrong" fact about voter behavior. One of the most imp findings from my 2018 analysis was that even among the Blue Dog candidates in 2018 who ran the most moderate campaigns & completely avoided talking about Trump
Rachel "The Doc" Bitecofer
@RachelBitecofer
15. Republican voter turnout surged and that in some cases- Republican voter turnout was higher in those districts than in districts where the Dem nominee just ran a traditional Democratic campaign (like Jennifer Wexton in VA 10 or more importantly, Katie Porter in CA 45 who ran
Rachel "The Doc" Bitecofer
@RachelBitecofer
16. on medicare for all in a district with a GOP voter reg advantage. Indeed, in every district I analyzed, candidates that ran a Blue Dogs appeared to gain no benefit from suppressed R turnout but lost turnout among D identifiers so it appeared to actually cost them some vote
Rachel "The Doc" Bitecofer
@RachelBitecofer
17. margin. The lack of bandwidth this analysis got is an unfortunate byproduct of the extensive twitter bullying I have been enduring over the past 3 years, so if you missed it- its here but don't miss the graphs embedded in the middle of the article