It's early June 2019…
A little less than a year out from next years election….
Democrats might be excited about this Emerson poll….
Smart ones will be wary….
Three of the top Democrat 's even trailing Biden would beat Donald Trump on the day the poll was taken…
But?
Democrats have been dreaming about a Republican candidate for President for awhile…
They even had their Presidential convention in the state….
Didn't work….
Trump and North Carolina Republican SHOULD be concerned…
Lot's of people from up North have retired down there and there are a LOT of young college students down there also…
But?
North Carolina is STILL a Red State…
At least right now it is….
A Democratic win there would mean Trump lost the electoral college for sure ….
A new Emerson Poll in North Carolina finds President Trump's popularity underwater, with 52% disapproval and 41% approval (May 31-June 3, +/-3.1%). Trump received 50% of the vote to Clinton's 46% in 2016, carrying the Tar Heel State and its 15 electoral votes. While the President remains popular within the Republican Party – Trump leads former Massachusetts Gov. Bill Weld 88% to 12%- the President is tied or trailing against four of the top five Democratic opponents, faring the worst against former Vice-President Joe Biden, who is ahead of Trump 56% to 44%.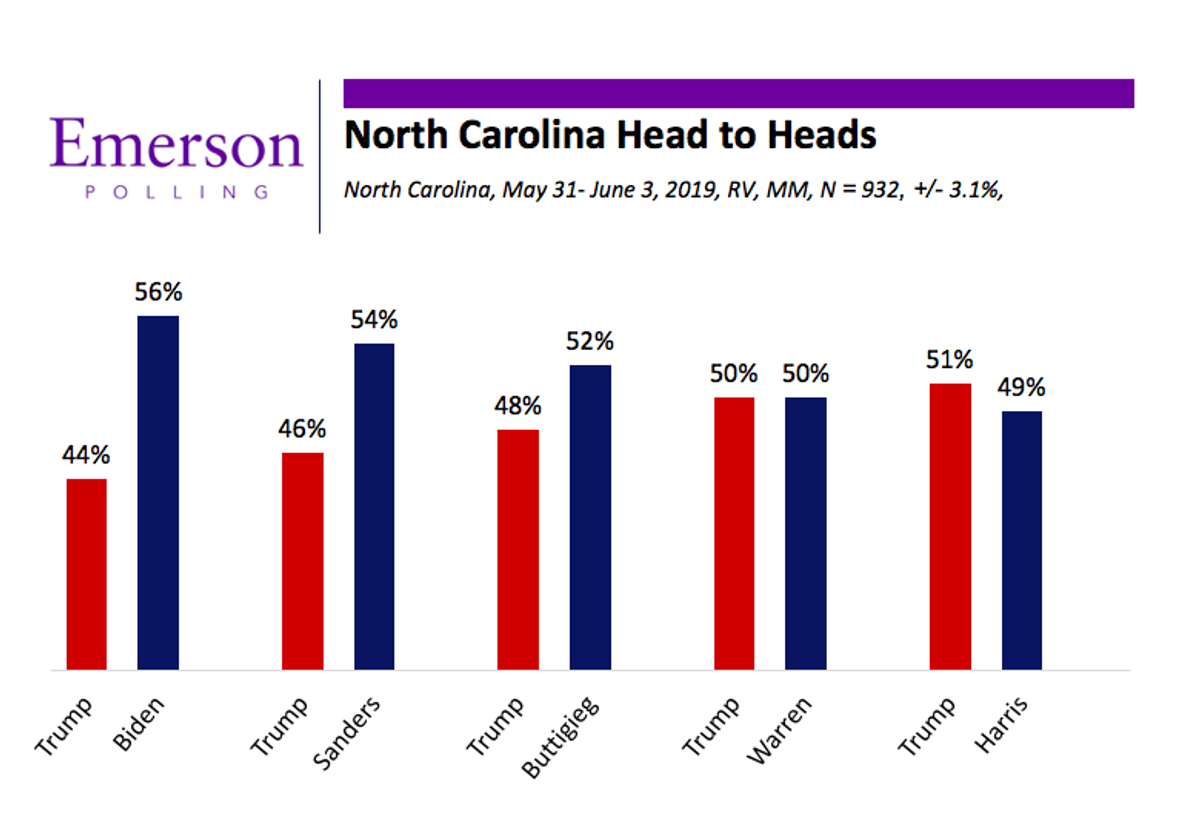 In the Democratic primary, scheduled to be a part of Super Tuesday on March 3, 2020, former Vice President Joe Biden leads with 39%, followed by Sen. Bernie Sanders at 22% and Sen. Elizabeth Warren at 15%. Rounding out the top 5 are Mayor Pete Buttigieg at 8% and Sen. Kamala Harris at 5% (n=397, +/-4.9%)….
More…
Note…
Right Now?….Biden is sure to win the primary in the state ….