He, he, he….
The last Emerson poll had Bernie Sanders in the lead..
That poll was a joke….
They have their act together this time…
A new Emerson National Poll finds former Vice President Joe Biden with a bump from his official entrance into the race, taking back the lead over Senator Bernie Sanders. The poll finds Biden with 33% and Sanders with 25%. The April Emerson Poll had Sanders ahead of Biden 29% to 24% making this a 13 point swing in favor of the former Vice President. Senator Kamala Harris and Senator Elizabeth Warren are tied for 3rd with each getting 10% of the vote, and Mayor Pete Buttigieg rounds out the top 5 with 8%. No other candidate in the field clears 3% (n=429, +/-4.7%, MM, May 10-13, 2019).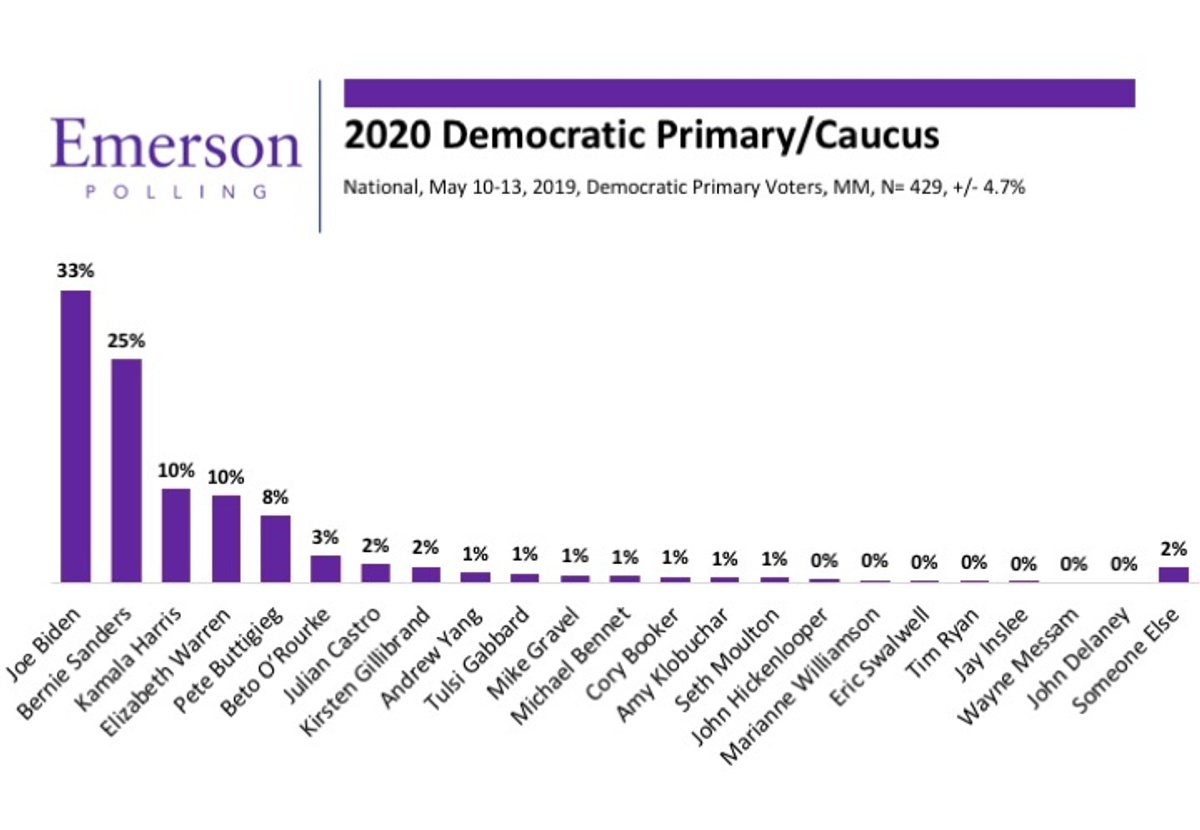 A majority of Democratic primary voters, 56%, indicate there is a chance they could change their mind and vote for another candidate, whereas 44% say they will definitely vote for the candidate they are currently supporting. Spencer Kimball, Director of Emerson Polling notes that "Biden and Sanders have more loyal supporters, as 52% and 54% of their voters say they will definitely vote for the top two candidates, while only 33% of Harris voters, 27% of Buttigieg and 20% of Warren voters plan to definitely stick with their preferred candidate."….
A new Reuters/Ipsos poll finds Joe Biden has expanded his lead int he Democratic presidential race by 5 percentage points since he entered the race in late April.
Biden leads the pack with 29%, followed by Bernie Sanders at 13%. None of the other candidates received more than 6% support in the poll….
image…The Federalist