Joe Biden leads both Beto O'Rourke and Donald Trump now…
Caution….
This is a early poll….
History points to Democrats STILL NOT being able to beat Republicans statewide even if the polls show closes races….
A new Emerson Poll of Democratic Primary voters in Texas finds former Vice President Joe Biden at 23% and former Texas U.S. Senate candidate Beto O'Rourke at 22%. Vermont Senator Bernie Sanders was the only other candidate to clear double digits, polling third at 17%. Mayor Pete Buttigieg at 8% and Senator Elizabeth Warren at 7% are ahead of former HUD secretary and native Texan Julian Castro, who is at 4%. The poll was conducted April 25-28, 2019, mixed mode, of Democratic primary voters with n=342, +/- 5.3%.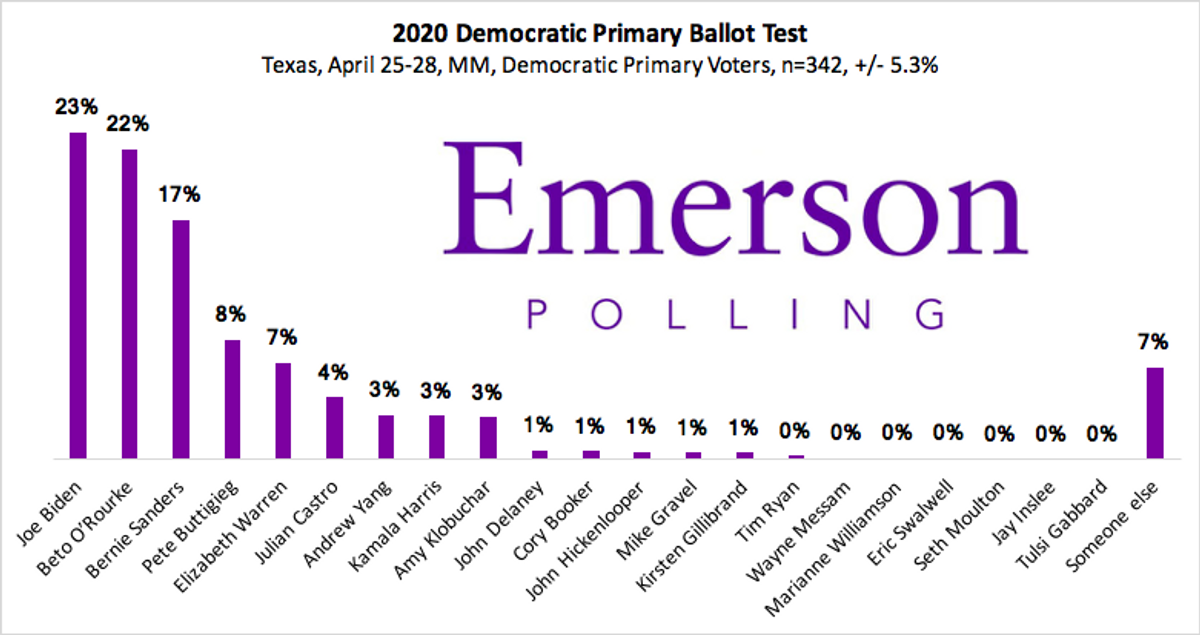 Spencer Kimball, Director of the Emerson Poll, explains "it looks like Beto O'Rourke does not have Texas locked up. Bernie Sanders had trouble back in 2016 in southern states, including losing Texas by 32 points (65% to 33%) to Hillary Clinton, so it will be exciting to see who can capture the Lone Star state in next March's key Super Tuesday contest."…
Note…
Texas was a problem for Bernie Sanders in 2016…
It looks no better for him this time either….