Joe Biden is first in leading Democrats for the party nomination….
Four other Democrats are polling AHEAD of Donald Trump right now also…..
There is more bad news for Trump in the Emerson poll….
The first Emerson Poll of 2019 in Pennsylvania shows former Vice President Joe Biden with a strong lead in the Democratic primary with 39% support. Vermont Senator Bernie Sanders is in second with 20%, followed by Massachusetts Senator Elizabeth Warren with 11%, and South Bend Mayor Pete Buttigieg with 6%. (registered voters, March 26-28, n=359, +/- 5.1%).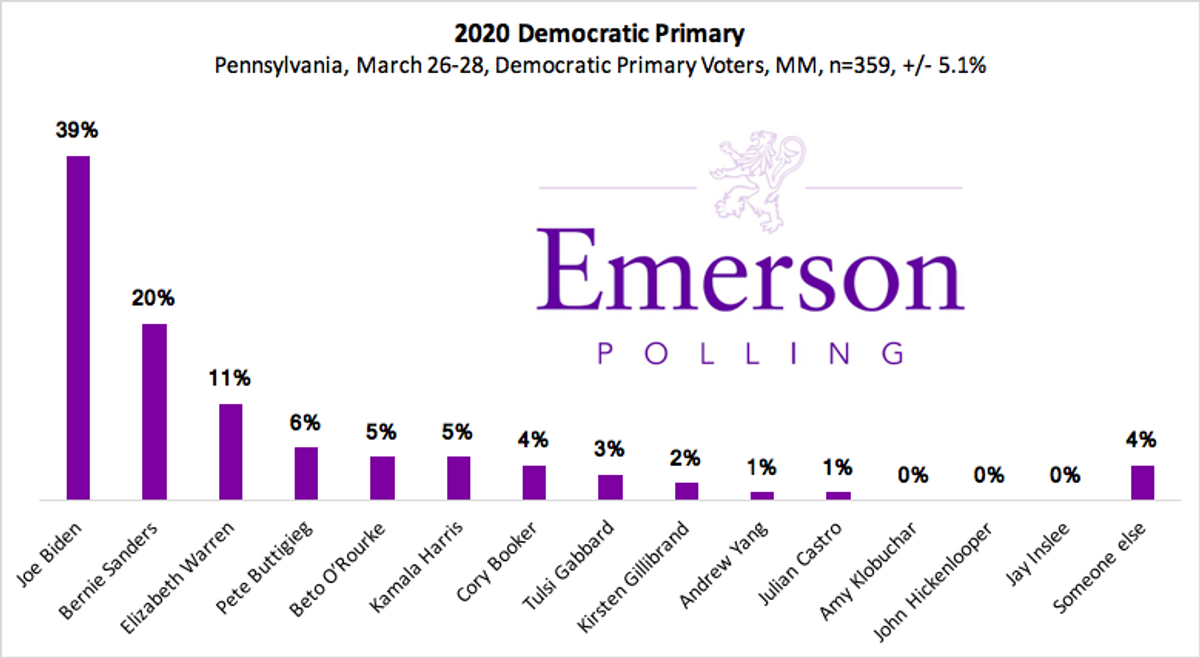 Spencer Kimball, Director of the Emerson Poll said that "Sanders in this years state polling is consistently keeping between 35% to 60% of his vote from 2016, suggesting he has a strong base of supporters to work with." Among those who voted for Sanders in the 2016 Primary, he leads with 36% support, followed by Biden with 25%, Warren with 10% and Buttigieg with 7%.
Sanders, as he has done in previous Emerson polls,  continues to perform the strongest among voters 18-29 years old, with 33%, followed  by Biden with 18%, Hawaii Representative Tulsi Gabbard – 13% and Warren – 12%. Biden leads among all other age groups with 40% support among 30-49 years olds, 38% among 50-64 years olds, and 55% among those 65 years or older…..